Continuing education is important not only to our industry but to consumers. Our industry is constantly changing, we have seen the industry evolve over the last 70 years greatly; from new technologies, and products to portfolio management theories. Continuing education is necessary for our industry and for financial advice professional to stay current with the latest developments, skills, and new technologies. Not only that, studies have shown that continuing education can boost confidence and lead to opportunities for career advancement.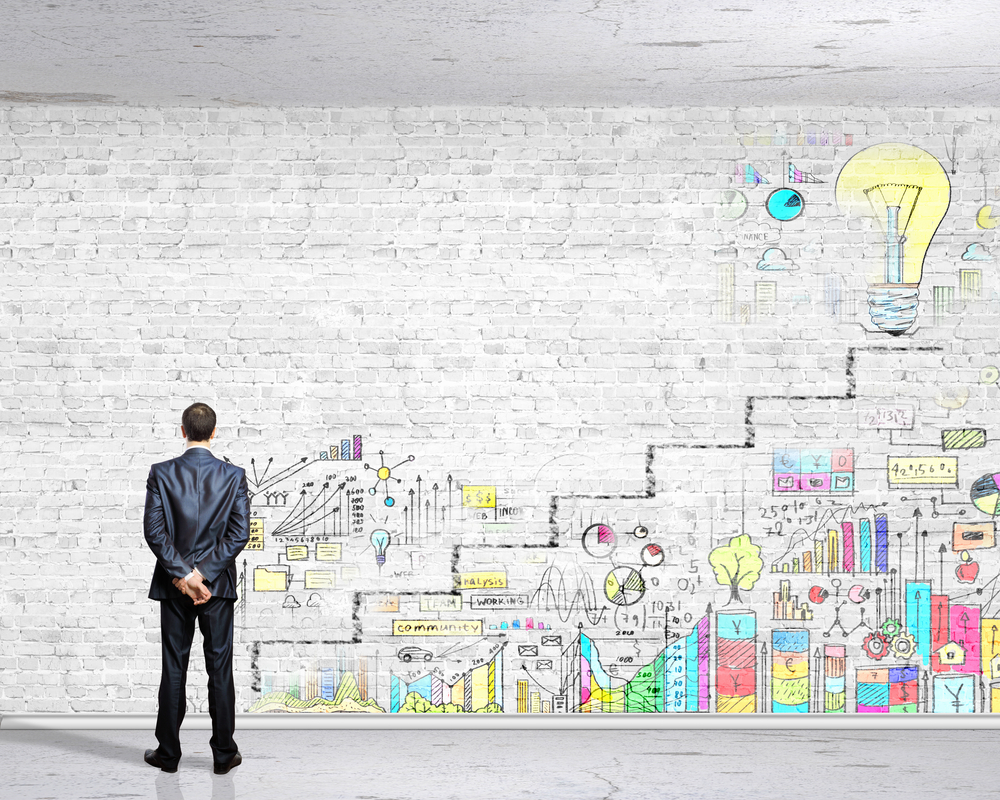 Furthermore, in the current globalized and competitive environment its more important than ever to take professional continuing education a step further and earn specializations, or other professional designations which train learners in a specialized skillset. Once earning a professional designation, many require continued learning to maintain the marks.
But let's face it: earning and reporting continuing education credit (CE) can be tedious. Especially when you feel compelled by a certification body like the Investments & Wealth Institute. That feeling is further aggravated if you are audited by the certification body to prove that you actually earned the CE you reported.
This article discusses why CE is so important in certifications, what type of CE we are looking for as a certification body, and why and how we audit to assure continuing competency.
Consumers rely on advisor designations to assess the knowledge and competency of their advisor, and they assume you must meet ongoing requirements if you list designations after your name.
The primary differentiator of a certification from a certificate or degree program is the requirement for ongoing re-certification requirements.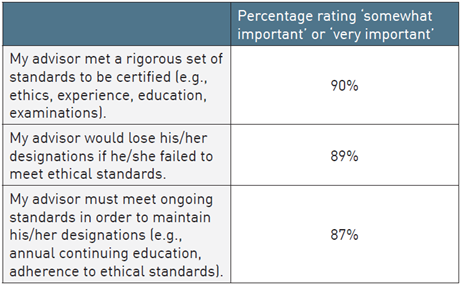 We survey more than 1,000 North American clients with advisors every year, and 87% hold the assumption that their advisor is meeting ongoing standards, or they wouldn't hold the mark after their name. This expectation is right up there with the expectation that their advisor met a rigorous set of standards to be certified (90%) and that they would lose their certification if they failed to meet ethical standards (89%).
Continuing education earned should match the job or specialty for which you are certified.
When setting standards for a profession or job or practice, a job analysis should be performed. This analysis verifies those knowledge and capabilities required to perform that job at an appropriate competency level. For example, the CIMA® certification for investment advisors & consultants, CPWA® certification for private wealth advisors, and RMA® certification for retirement planners are all voluntary standards for intermediate or advanced practitioners. The Institute identified and codified the knowledge and skills needed to hold these designations using a job analysis process. Additionally, the Institute updates the knowledge and skills through completing a job analysis every 5 years for each certification.
Knowledge, skills and abilities (KSAs) identified through these job analyses become the topics accepted for CE credit by the Institute. This assures stakeholders that the continuing education undertaken by certified practitioners addresses relevant, accepted, and appropriate topics.
Our objective as a certification body is to advance and protect the integrity of the certification mark that the professional has worked hard to earn and maintain. Enforcing recertification standards assures the public, the industry, and the profession of the quality, rigor, and legitimacy of the certification.
There are three generally accepted forms of assessing continued competency in best-practices certification programs:
Re-examination,
Continuing education,
Peer-review practice audit.
Of the three options, most certified professionals prefer reporting continuing education credit. It is also much easier to administer for the certification body. Most credentialing bodies in financial services simply ask their population of certificants to "attest" that they have completed the required hours of CE. Many groups fail to take additional steps to assure that those requirements have actually been met. Recently, the CFP Board came under criticism for relying too heavily on self-attestation in its ethics disclosure process.
The Institute believes that for exceptional advisors, education never stops; it's even a part of our values. Because of the Institute's mission, vision and values the Institute has long maintained strong processes and procedures to enforce our ongoing ethics and continuing education requirements. In fact, we hold the gold standard of accreditation for the CIMA® certification from the American National Standards Institute (ANSI) under the international standard for personal certifiers (ANSI/ISO 17024). We have maintained accreditation since 2011.
The Institute believes in the rigor of a continued competency standard, but we also want to make the reporting process simple and efficient for our stakeholders.
Certificants can earn and report their CE throughout the year in any one of three ways,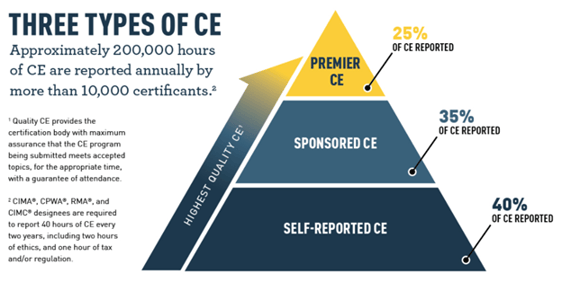 two of which may be audited upon renewal.
Premier CE: If you complete in-person or online continuing education from the Investments & Wealth Institute, you will have earned Premier CE credit which is automatically applied to your record. This CE is audit proof, because we design and host the educational program, and know the details of the program, like the topics covered and length of program. This method of earning CE offers maximum assurance that the CE will count toward your continuing competency requirement.


Sponsored CE: If you complete in-person or online continuing education from a Registered CE Sponsor, you will be able to log into your Dashboard online and verify that CE hours were uploaded by the CE Sponsor. Registered CE providers are third-party providers that have educational program(s) that have been pre-accepted by the Institute for CE credit. We work with sponsors to verify the details such as topics and attendance. If the hours are not reported, you may enter a program ID and report the credit using our convenient online portal.

Sponsored CE is subject to audit.

If audited we will verify you attended the programs submitted.




Self-Reported CE: If you complete in-person or online continuing education from an independent, third party that is not the Institute or a registered CE Sponsor, you may still report those hours through your Dashboard online. Using the streamlined CE reporting tool, you will be asked to provide program details and attest to completion of the program. CE credit will be automatically added to your record upon entry and will require a CE fee. Self-reported CE is subject to audit. If audited we will verify that you attended the programs submitted, and that the topics attended address accepted CE topics. With self-reported CE it is a good idea to keep course outlines and programs in the case of being audited.
Each month, a random sample of certified CIMA®, CPWA®, and RMA® holders are selected for audit at random. Audited individuals have 30 days to provide documentation that demonstrates completion, content and clock time for all CE that is under audit.
Certificants randomly selected only need to verify CE completed through a Registered CE Sponsor and Self-Reported CE. Premier CE offered by Investments & Wealth Institute is not subject to audit.
While completing, reporting, and verifying continuing education hours may seem cumbersome, the simple fact is that succeeding as an advisor today means demonstrating value – both what clients get for their money and why relationships matter. Today's complex and global financial world requires sophisticated solutions from competent, ethical advisors; maintaining knowledge and updating skills is an important way to provide the value clients are looking for. The Institute's professional designations and educational programs help advisors deliver on that value every day, maintaining your knowledge and updating your skills through continuing education helps propel the industry forward, elevating the professionalism of us all.
Have questions? Get more information by visiting, investmentsandwealth.org/cima/ce-reporting-changes.