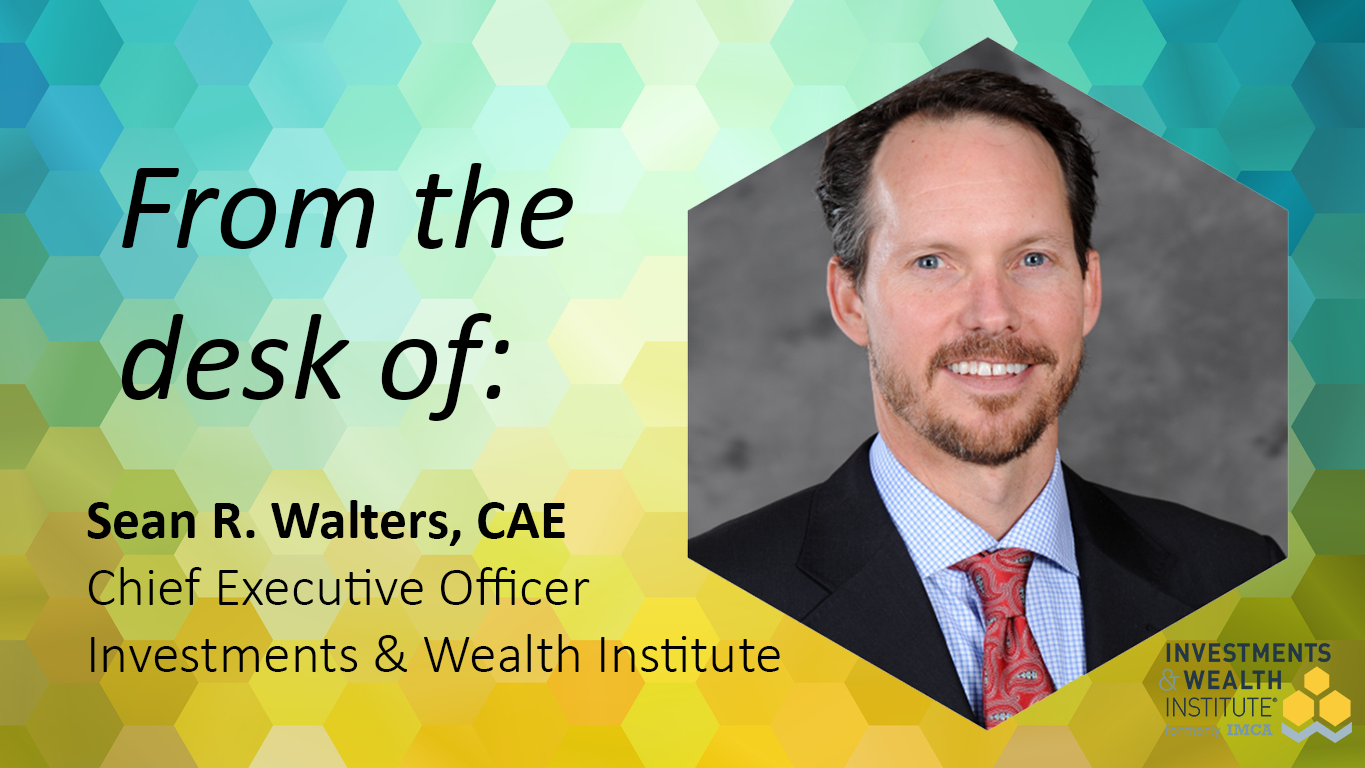 Ours is not a unique story. But I wanted to share a few words on how proud I am of the accomplishments of the volunteers and staff of the Investments & Wealth Institute. Maybe you are a financial advisor running a team or practice, or a fellow association executive or talent development professional running a business model that seems under assault, or you are just your everyday, average entrepreneurial LinkedIn drifter looking for real-life case studies of organizations and how they are faring in this economy. Our story is not unique, but it is a good story. It holds hope, I think.
For those of you who don't know us, the Investments & Wealth Institute is a premier professional association, education provider, and standards body for financial advisors. We deliver three advanced certifications, several assessment-based certificate programs, and a multitude of online courses, conferences, webinars, publications and other member benefits. We straddle four sectors: non-profit associations, education and credentialing providers, financial advisory services, and premier goods and services providers.
We have been perhaps best known for the Certified Investment Management Analyst® (CIMA®) certification and for our live conferences. The education requirement for CIMA certification was for many, many years delivered exclusively by The Wharton School, via an in-person executive education model. And our live events and conferences for professionals have for years been hailed as "the best in the industry."
Many years ago we began diversifying our product offerings, as our customers wanted more choice in their learning. The University of Chicago Booth School of Business delivers both education requirements for the CIMA certification and our Certified Private Wealth Advisor® (CPWA®) certification as hybrid offerings (online + in-person), and Yale School of Management delivers the education requirements for CIMA and CPWA certification entirely online. One delivery model is not better than another, in that one person learns differently than another. We still assess competency through our certification examinations, so it has become clear over the past several years that learning via in person or online methodologies does not lead to higher or lower pass rates.
By the end of 2019, we hosted 10,277 learners in 60 educational programs. As in prior years, the split between online opportunities (53%) and in-person and hybrid opportunities (47%) was fairly even. The program offerings themselves were split entirely: As a global organization we delivered 60 educational programs in 2019, 30 were in-person and 30 were online or hybrid programs.
Hurling blindly into 2020, we were better positioned than most to weather the coming storm. And our staff and volunteers have pivoted marvelously. To date, we've canceled more than a dozen live events. Some of these events, like our Annual Conference Experience (ACE), were in planning for years. Within days or weeks, our staff and volunteers not only unraveled these live events successfully, but also converted many of them to virtual versions of the original. At present pace, we will match or eclipse the number of total learners we serve as an organization for investment and wealth management professionals. As of mid-year, we have already delivered 32 programs to nearly 5,200 learners, and all but two of these offerings have been online. All four providers of education for our certification programs – Wharton, Chicago Booth, Yale, and the Investment Management Research Program in Australia – have delivered their executive education offerings online in 2020.
Fall 2020 and 2021 conferences will be hybrid offerings like our forthcoming Behavioral Advisor Forum in September 2020, which features Cal Berkeley Behavioral Finance faculty and leading practitioners offering presentations via livestream and On-Demand. In person education will come back in the future, but the conference experience will always be augmented with livestreamed and on demand content. Our program volunteers are already planning for this eventuality for all events this fall and for 2021.
The tale doesn't stop there. The meetings industry has been ravaged by this post-COVID storm, but the certification industry hasn't been without its challenges. Since the fall of "pencil and paper" testing 20 years ago, CBT (Computer-Based Testing) has become the norm. And the giant "Brick and Mortar" testing companies have dominated the field. (Pearson Vue, ProMetric, etc.) With most global cities still on some form of lockdown, testing centers simply aren't open, and credentialing bodies are feeling the hit: CFA Institute and CFP Board of Standards had to cancel their Spring exam windows. Our candidates have been on hold, as well; but not for all Institute certification programs. The Retirement Management Advisor® (RMA®) certification is a relatively-new addition to our stable of advanced credentials for financial advisors. Seeing the opportunity to experiment with progressive credentialing technologies, our RMA program volunteers and staff decided in late 2018 to administer the exam as an online proctored exam using a little-known vendor in the testing space, ProctorU.
After 18 months of operation, we know how to administer online proctored exams, and we have a tested vendor and prescribed set of procedures to apply to our other two certifications. As a result, certification staff and volunteers have been working diligently to transition hundreds of exam items (including their psychometric databases) from our other two certifications to ProctorU. Not as a replacement to Brick and Mortar, but as a supplement. Like learning, testers want choice. It is hard to convey just how much work and effort goes into the process of administering a valid, legally-defensible certification exam, so I won't try. Suffice it to say that we are small and nimble enough (and our certification staff and volunteers are awesome enough!) to pull it off in a couple of months, whereby it will be virtually impossible for larger credentialing bodies to successfully make the switch.
Our support staff has been incredible. The marketing and communications team has had to understand and convey the nature and benefits of new or converted offerings. They have been forced by circumstance to plan an immense number of tactics for an ever-widening (and ever-changing) field of products and programs. Communications planning has been relentless: Whether navigating the opening weeks of COVID response, multi-point cancellation plans, or driving our response to important social movements by ramping up our Certification Scholarship Fund Efforts to address gender and racial inequality within our profession. The sales team has had to navigate the same deluge of changes, while maintaining key corporate relationships via mobile phone and their desktop, and transitioning sponsor rights and benefits from live to online events. Our legal and accounting teams have preserved our bottom line throughout the crisis, whether by negotiating "force majeure" clauses with vendors, or arm-wrestling Event Cancellation Insurance providers. The IT group has been perhaps stretched thinnest: prioritizing a horde of old and new programming requests, while simultaneously serving 40+ individual staff as they work from the home kitchen table with their spouse, or a converted attic in the heat, or that little unused bedroom. "Investing in your presentability" now is more related to a cool Zoom backdrop and the quality of your wi fi connection, than your wardrobe choices. I think I've worn the same comfortable pair of shorts to more than 100 zoom calls that only feature my top half!
We transitioned a decentralized customer service operation into a centralized customer care team in late 2019, and that group of professionals has been remarkable. However, in this crisis, all of us are responsible for fluid, flexible customer care. Our combined team of 40+ professionals have offered extraordinary service to candidates, certificants, members and registrants.
Finally, a word about leadership. In today's environment, there is no business acumen more relevant than providing stakeholders with clarity and certainty. I am so very grateful for our Board of Director's role in this regard. In late 2019, the Board of Directors voted to invest our strategic efforts on certification growth. Not growth for growth's sake, like the for-profit sector, but growth because growing the number of certified professionals enhances the competency and professionalism of advice delivered to the public. They could have equally chosen conference growth, or membership growth, or revenue growth…but they chose a path that generated the highest return on our non-profit purpose: To develop and encourage the practice of high standards of professional conduct, in order to promote and protect the interests of the profession and the public it serves.
When professionals feel that a recession is upon them, and want to position themselves for greater resilience within the workforce, they come to certifying bodies like the Investments & Wealth Institute to learn and earn: They learn new knowledge (courses, conferences and certificate programs), and they earn new capabilities as a result of completing a competency-based program (certifications). The community of professionals we serve – financial planners, investment advisors and consultants, private wealth advisors, retirement advisors – represent the best financial advisors in the profession for one reason: they are committed to making themselves and their practices better, so that they can better serve their clients. They are committed to becoming Exceptional Advisors.
---
Sean R. Walters, CAE, is the Chief Executive Officer of the Investments & Wealth Institute.
---