With the 2020 presidential election a little over month away, are you prepared to address your clients' needs? Fierce campaigning and near-constant media coverage can have an impact on how clients view their portfolios. Indeed, much of the focus on campaign coverage — along with the current volatility related to the COVID-19 pandemic — is on how voter finances will be impacted by whomever wins the election in November.
Help clients focus on what they can control
Your first job as an advisor is to listen to your clients and remind them that financial decisions should be made based on their long-term objectives and not the latest headlines. Rather than reacting to the flashiest news from the last 24 hours, it is a good idea to review those long-term objectives.
For those who have more immediate concerns, point out the strategies that have helped ensure that they have access to the money they need right now. Remind your clients that they can still control their immediate behaviors and that by remaining calm, they can avoid behavioral finance mistakes.
Avoid speculation
One of the most important things you can do as an advisor is to avoid speculation. The reality is that no one can fully predict what is next whether it is a football game or presidential election.
While the economic landscape may change, let your clients know that you're paying attention to the situation and that you're available to guide them and answer any questions they may have about the plans you have put in place. Reassure them that you have worked together to craft a portfolio strategy designed to be flexible as needed, and that you can make tweaks if they're warranted.
Bottom line
It's easy to get caught up in all of the sensationalism surrounding any presidential election. However, as an advisor, it is up to you to remain calm and to help your clients retain their focus.
Be sure to listen to and understand your clients' fears, but then remind them that you have developed a flexible portfolio that is up to the challenge. Remind them that their strategies are designed to go beyond the next few months and take them into the following years if not decades.
As long as you have built trust with your clients over time, you should be able to help them successfully navigate the coming weeks and months.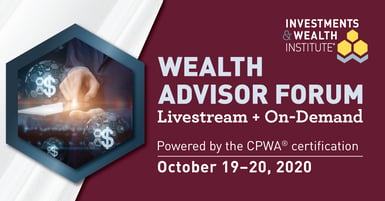 Need an insider's view of the upcoming election and possible ramifications? Be sure to attend the Wealth Advisor Forum: Livestream + On-Demand October 19-20, 2020. This year's Keynote speaker is Jeff Bush of the Washington Update. Bush is known for his unique ability to translate difficult and confusing tax and fiscal information coming out of Washington D.C. into winning growth strategies for business owners, executives, and high net worth investors. With an important election looming he will be giving an insider's update on fiscal policy, taxation, trade, foreign relations and more.
Learn More & Register for Wealth Advisor Forum here.
---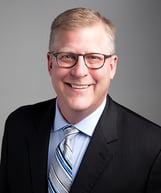 About Jeff Bush
In the 2012 presidential election, Jeff accurately predicted the outcome 14 months in advance as well as predicting the republican sweep in Congress in 2014. Jeff also predicted the fiscal cliff outcome that lead to the single largest tax increase in dollar terms in US history. In the 2016 congressional elections, Jeff predicted Senate control would follow the White House. Most recently, Jeff accurately predicted the Democrat
takeover of the House of Representatives and the Republicans continued majority in the Senate in the 2018 mid-term elections. This advice gave investors and their professional advisors an opportunity to prepare for the political changes that would impact their bottom line.
Jeff presents more than 200 times yearly in the US and abroad to a client base that includes a who's who list of fortune 500 firms from Wall Street to Main Street and everywhere in between.
Jeff is a 30-year veteran of the financial industry. By the end of his career on Wall Street, he was managing a $50+ billion sales organization. Before that, Jeff was the youngest managing partner in the 150-year history of The New England Financial.
You may have seen Jeff on CNBC's Nightly Business Report or heard him on POTUS XM radio. But today we have Jeff here with us. He is considered Wall Street's Washington insider and, politically speaking, Jeff is known for being America's foremost equal opportunity offender.
Jeff is a colleague of Andy Friedman and an integral part of The Washington Update, the industry's NONPARTISAN experts on all things Washington.