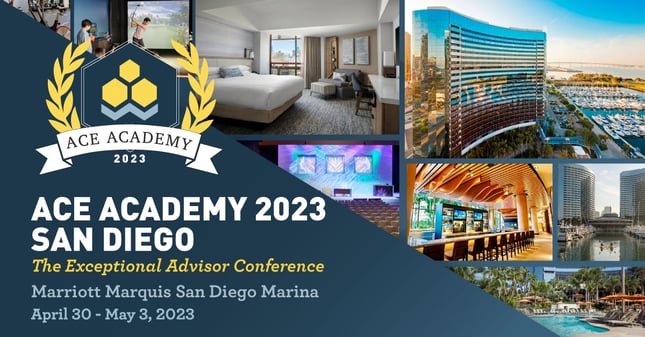 Investments & Wealth Institute Annual Conference Experience, ACE Academy 2023, is right around the corner. Here's what you can expect from the annual flagship IWI conference. For 2023, we are expecting over 1,200 prestigious financial advisors, like yourself! This financial industry-acclaimed conference is packed with investment and wealth management thought leaders, excellent financial advisor education sessions, and it will include numerous industry experts and innovators. Plus, you'll get to enjoy sunny San Diego and get a jump on those spring vibes we are all starting to feel!
Who are the ACE Speakers?
At this year's conference we have an exciting line-up with featured speakers including:
What's the Schedule?
Get ready, this conference has an agenda that'll keep you busy. Starting Sunday, April 30th, the 3.5 day ACE Academy will kick things off with an estimated 50+ speakers, 35 sessions, 5 Keynotes (general sessions), 9 Super Sessions, 15 Breakout sessions and 6 EdTalks.
These are advanced, peer reviewed conference sessions featuring Ivy league-quality education with practical application.
Who will be there?
Investments and Wealth Institute attracts the industry's most influential advisors from every channel to our events. Attendees on average manage $350 million AUM which is 4 times the overall industry average.
Here is a snapshot of Advisor Attendees by Certification: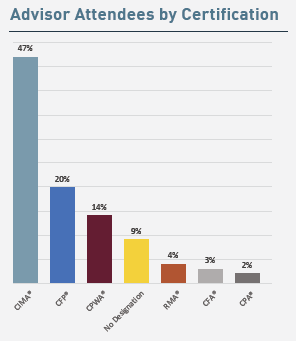 Choose your ACE-track!
ACE Academy is offering five different tracks, sure to appeal to any advisor - no matter what stage you're at in your career.
Investment Management - Wealth management professionals must integrate a complex body of investment knowledge, ethically contributing to holistic, prudent investment decisions by providing objective advice and guidance to individual and institutional investors. Powered by the CIMA® certification, which is the leading credential for investment consulting & portfolio construction.

Private Wealth Advice - Wealth management professionals must apply financial planning foundational competencies within a technical, multi-disciplinary process that helps mass-affluent, high net worth clients. Powered by the CPWA® certification, the premier designation for serving the sophisticated financial planning needs of HNW clients.

Retirement Management - Wealth management professionals must build custom retirement plans to mitigate clients' risks and to master the retirement planning advisory process. Powered by the RMA® certification, the industry's only process-based, holistic approach to help clients plan for retirement & the process of decumulation.

Behavioral Science - Client psychology, family dynamics, and other behavioral aspects related to the effective delivery of financial advice to end clients.

Independent Practice - Running an exceptional independent practice and serving your clients requires a wide array of knowledge and skills including client retention, service and business models, client communications and engagement, technology and HR issues.
Continuing Education
Yes, at ACE there will be plenty of options for you to get continuing education credit! At this year's conference in-person and you can earn up to 20 premier, audit-proof continuing education (CE) credits (pending approval).
Our last four conferences have a reported Net Promoter Scores (NPS) of at least 75%, and three out of four advisors in our annual member survey rate our conferences better or much better than any other industry event. For more than 35 years exceptional advisors have chosen to attend Investments & Wealth Institute's Annual Conference Experience (ACE).
This is your opportunity to network with the industry's leading investment and wealth practitioners.
Not sure you can attend in person?
Attend on-demand and you can earn up to 15 premier, audit-proof continuing education (CE) credits (pending approval). On-demand will be made available starting May 12th.
The FUN Stuff - What is there to do in San Diego?
Be sure to check out this handy San Diego travel guide, which has lots of great tips for where to visit, how to plan your day and where to grab dinner. One suggestion is if you are interested in the San Diego Zoo, Sea World, Belmont Park, museums at Balboa Park, or Legoland, then it might be more cost effective to buy a San Diego GO Card, which gives you free access to almost 50 different attractions. Get in the know and go like a pro!
Where do I register for ACE Academy?
Registration is now open for ACE Academy at the Marriott Marquis San Diego Marina. For detailed event information, visit the ACE Academy 2023.

HURRY! Early-bird pricing ends April 1, 2023.