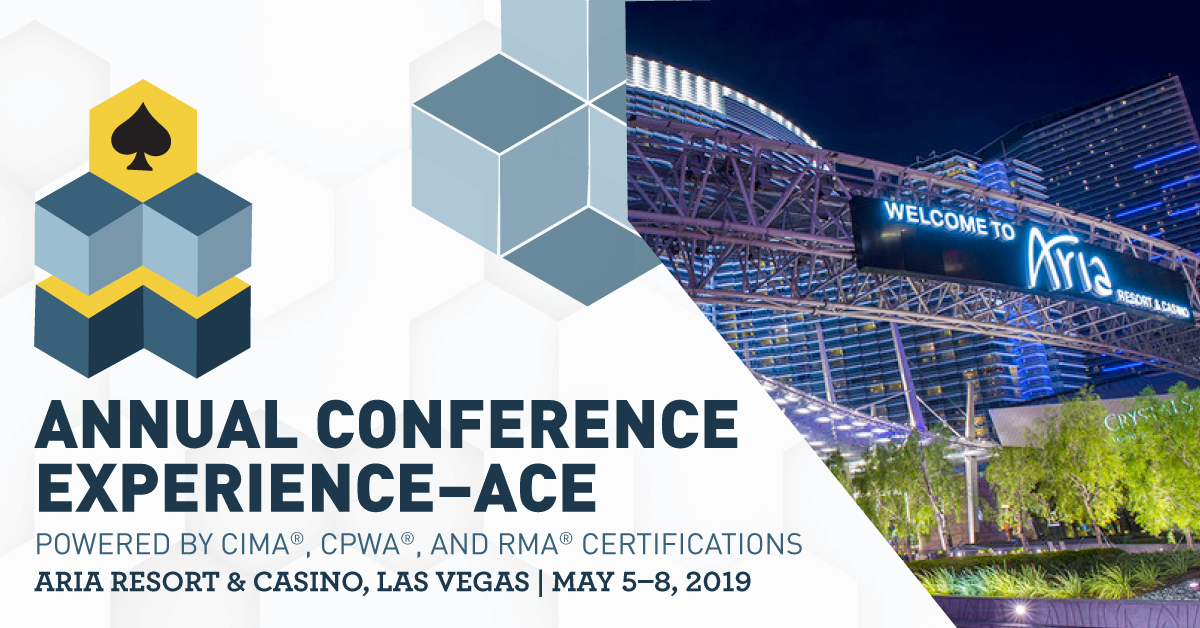 More than 1,500 advisors from across the nation will gather for the Investments & Wealth Institute 2019 Annual Conference Experience—ACE, May 5–8, 2019, at the ARIA Resort & Casino in Las Vegas. This industry-acclaimed conference is packed with investment and wealth management thought leaders and includes numerous industry experts and innovators. This year's conference will feature seven general sessions led by:
In addition, ACE will also offer two pre-conference workshops:
Wealth Management Workshop: An Overview of the CPWA Body of Knowledge in collaboration with Yale School of Management with John Nersesian, CIMA®, CPWA®, CIS, CFP®, head of advisor education, PIMCO
Professional Conduct and Regulation (Ethics) with Marguerita Cheng, CFP®, RICP®, chief executive officer, Blue Ocean Global Wealth
ACE will begin with the first general session following the pre-conference workshops on Sunday, May 5, at 5 p.m. General sessions, super sessions, deep dives, facilitated labs, and workshops offer attendees a variety of learning options based on tracks that align with their interests, including the following: investment management, wealth management, advanced business strategies, retirement management, distribution excellence, and institutional consulting.
ACE also will offer attendees unique experiences and new forums for learning such as EDTalks on the Exhibit Hall floor, book signings, and an Oculus virtual reality experience. Also new this year are a NexGen Reception that will feature Vegas gaming lessons, a VIP Women in Wealth Luncheon, and an International Member Breakfast.
ACE 2019 in Las Vegas offers up to 24 hours of live and online continuing education (CE) credit, including one hour of ethics CE for Certified Investment Management Analyst® (CIMA®), Certified Private Wealth Advisor® (CPWA®), and Retirement Management Advisor® (RMA®) certificants.
Registration is now open for Annual Conference Experience. For detailed event information, visit the Annual Conference Experience event web page. Early-bird pricing ends April 5, 2019.
---
Topics for ACE sessions are 100 percent peer-reviewed and based on the Investments & Wealth Competency Matrix, the foundation for all of the Institute's educational offerings.