When it comes to the strength of the relationship between advisors and their clients, 94 percent of high-net-worth (HNW) clients say they're satisfied with their advisor and 92 percent say they're "somewhat likely" to continue working with them (Investments & Wealth Client Research 2017). So how do you stand out when satisfaction and loyalty don't necessarily set you apart?

While you can differentiate yourself by earning advanced, voluntary designations and credentials, it isn't enough. Unfortunately, not enough advisors discuss their credentials with their clients once they have earned them nor do they explain what these certifications mean for their clients. Those advisors who do so can increase client retention and acquisition, which is why the Investments & Wealth Institute has developed The Exceptional Advisor Toolkit.

Showcasing your advanced knowledge and expertise is integral to success. HNW clients want a deeper understanding of their advisor's designations and what it means to them. Professionals who hold the Certified Investment Management Analyst® (CIMA®), Certified Private Wealth Advisor® (CPWA®), and/or Retirement Management Advisor℠ (RMA℠) certifications now have access to a suite of client facing tools with The Exceptional Advisor™ Toolkit.

Based on quantitative research conducted among HNW individuals by AbsoluteEngagement.com in partnership with the Investments & Wealth Institute and sponsored by the Capital Group, "exceptional advisors" were defined as those advisors who demonstrate four key attributes valued by clients, including:
Understanding what clients need and value
Providing meaningful guidance
Demonstrating advanced knowledge
Acting ethically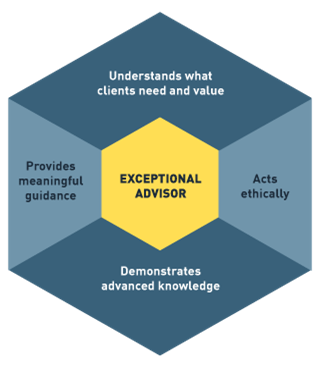 Helping certificants emphasize these attributes is the focus of the Exceptional Advisor Toolkit. With an array of easy to use tools, you can readily access items that can help you differentiate yourself from other professionals in a global and highly competitive marketplace.

Accessed through the Member Dashboard, the toolkit offers resources that demonstrate how your advanced knowledge and certification(s) can benefit your clients. Members can choose from a variety of communication tools, including brochures, templates, or an investor-focused website, www.InvestmentHelp.org, and from a selection of advisor learning resources, such as courses and webinars focused on determining what clients want, delivering what they need, and demonstrating value. CIMA, CPWA, and RMA certificants can also find certification-specific client materials created to showcase the competencies provided by their certifications.

Due out this summer is a new addition to the toolkit, " Exceptional Advisor™ Online Course: Communicate Your Value & Build Client Engagement." This five-module course will help you to explore the traits of an exceptional advisor and examine the importance clients place on these attributes, better communicate your expertise and credentials effectively, and build plans to enhance the advisor-client relationship.

Take some time to explore this member-only benefit today. It's a good place to learn how to better showcase the expertise you've gained by earning your certification(s).