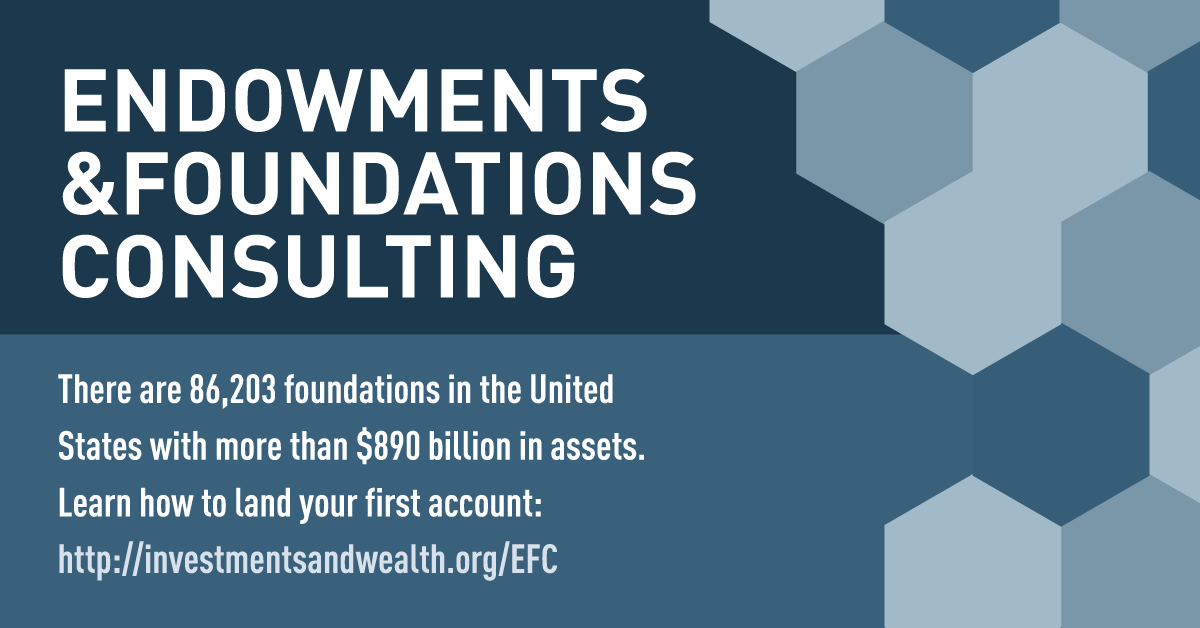 Since the advent of the internet, the world has seen a rise in organized philanthropy, on local, international and digital levels. This rise in philanthropic giving can be attributed to a variety of factors from social media and globalization, to ease of giving (through digital platforms), increased global wealth, and heightened awareness and visibility among many others.
Giving USA Foundation
reported that in 2017, the total giving to charitable organizations in the United States was over $410 billion. Naturally, foundations and endowments have financially grown along with this rise in charitable giving, presenting new and differing challenges for the foundations and endowments receiving the increased funds. Most importantly, how do they responsibly and smartly cultivate the gift to maintain or expand their mission?
Non-profits, endowments and foundations have unique sets of challenges and goals in addition to abiding by differing sets of rules and tax codes. However, foundations and endowments still seek the strategic expertise and tactical support provided by advisors. This is where investment and wealth management professionals have their work cut out for them, as endowments and foundations' set of circumstances are different from most of an advisor's other clients.
"There are more than 1.5 million non-profit institutions in the U.S., and only a very few consultants who are equipped to serve their unique needs. All non-profits rely, at least to some extent, upon their investments to successfully achieve their missions." said Sean Walters, CAE, chief executive officer, Investments & Wealth Institute.
Seeing this gap in curriculum, a new online course, Endowments & Foundations Consulting, is now available from
Investments & Wealth Institute®
(formerly IMCA). The course is designed to help experienced practitioners deliver significant value to their current and future clients through an understanding of how best to serve the unique needs and requirements of non-profit institutions. Covering every aspect of working with the special circumstances of non-profits and is delivered by highly-skilled, expert instructors and thought-leaders.
"Endowments and foundations are often run by boards and committees, the members of which are often smart and powerful, but often don't have experience with investment management, and need a consultant who can simultaneously educate them and empower them to make good decisions," said Devin Ekberg CIMA
®
, CPWA
®
, CFA
®
, managing director of education, Investments & Wealth Institute. "Non-profits often fund critical spending needs and have specific risk parameters. A consultant must understand the nature of their organization and be acutely aware of the mission in order to make the best recommendations, and this program is designed to give advisors the right skills to do so."
The course is directed by Scott Thayer, CIMA
®
, former chairman of the board of directors, Investments & Wealth Institute. Instructors include Margaret Towle, Ph.D., CIMA
®
, CPWA
®
, CAIA, editor-in-chief, The Journal of Investment Consulting; Devin Ekberg, CFA
®
, CPWA
®
, managing director of education, Investments & Wealth Institute; Ardyth Neill, president, Heifer Foundation; and John Nersesian, CIMA
®
, CPWA
®
, CFP
®
, former board member and a past chairman of the board of directors.
"There is a tremendous need for professional management in the non-profit sector, especially for the numerous non-profits with assets under $50 million. In my 35-year career as an institutional consultant, I found this market sector very rewarding," said Scott Thayer, CIMA
®
, program director. "In addition to serving private wealth clients, advisors can expand their opportunities set by the diversification in this market sector. The social missions professionals can serve are endless, the opportunities are rewarding and the experience is challenging. I would encourage advisors to expand their knowledge, professionalism, business, and expertise by completing this course."
Charitable giving is not slated to slow down,
The Foundation Center
reports that historically, charitable giving rises about one-third as fast as the stock market. Considering that this past January saw the S&P 500's all-time high, there will continue to be the need for professional management in the non-profit sector and notably, a need for professionals who can offer the support, advice and expertise for this sector's unique set of challenges and goals.