Originally published here by SPDRS.COM.
International Women's Day is celebrated annually, today, on March 8. In celebration and support of International Women's Day the Investments & Wealth Institute is proud to have Brie P. Williams, Vice President of State Street Global Advisors and Head of Practice Management for the Global SPDR Business as a guest blogger on this important topic.
---
Anniversaries have a way of reminding us about what and who we truly value in our lives. With International Women's Day on the calendar this month, I'm reminded of colleagues who have influenced my own career. More importantly, I'm reminded of the crucial role that we all play as mentors, coaches and sponsors, helping to groom a diverse talent pool throughout our industry.
I stand on the shoulders of many special colleagues because of the wisdom and constructive feedback they so generously offered over the years—whether I wanted to hear it or not. With the benefit of hindsight, it's easier to see how a balance of constructive criticism, hard-earned praise, and a dose of reality shapes a career.
Career crossroads are especially key moments when a mentor is a critical sounding board, when a coach helps you move out of your comfort zone, and when a sponsor pounds the table to advocate on your behalf. These are different roles with different purposes, and each of us can benefit from these roles at different points in our careers.
But none of this happens in a vacuum. The way we interact as colleagues, the opportunities we see as team members, and the hiring choices we make as managers are influenced by corporate culture. Until recently, the gender gap in financial services had quietly reinforced a culture of exclusion, keeping the important networking function just beyond reach for many women. We've seen much progress in creating a more gender-balanced and inclusive environment, but there is still work to be done.
The Economics of Gender Balance
Why does gender matter? Research shows that greater gender diversity throughout a firm creates greater cognitive diversity and leads to better outcomes—for investors and for our industry.1 In short, it is an economic driver. Gender diversity goes hand in hand with diversity of thought, which is essential for long-term corporate performance and broader economic prosperity.
The hurdle is not just in more opportunities becoming available to women, but also in greater representation of women in leadership roles. Seeing really is believing—there is real power in seeing yourself reflected in a role model. With more women in leadership roles, a rising generation of financial services professionals can envision what's possible and be inspired by their accomplishments.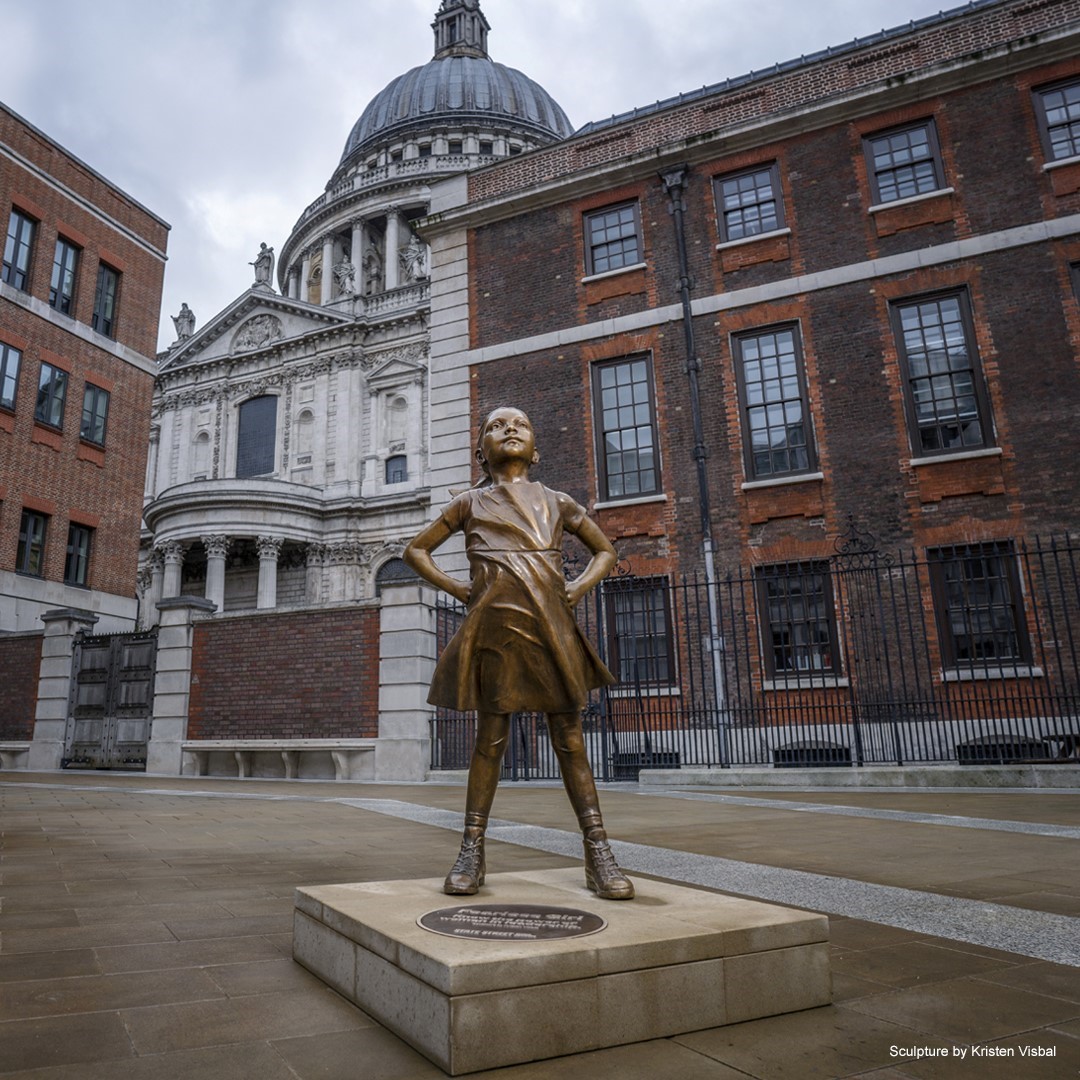 Sculpture by Kristen Visbal, commissioned by State Street Global Advisors.
Today, the Fearless Girl statue is a fresh and relatable symbol confronting this age-old problem. I am inspired, seeing in her the faces of female colleagues who are confident and successful, owning the trail they blaze. She also symbolizes true progress across our industry and around the world, including State Street Global Advisors' work in engaging directly with companies that have no women on their board and using the firm's proxy voting power to effect change.
Already within the first two years, we have begun to see results, including more than 400 companies that have added a female director and 20 more committed to doing so. In the United States alone, there has been a decrease in companies of the Russell 3000 Index5 without a female director, from 24% (end of 2016) to 16% (June 2018).6 However, any initiative for change comes with a measure of risk. In this case, being held to a higher standard and inviting public scrutiny and criticism was a risk we were prepared to take, given the importance of the issue and knowing that we can all strive to do better when it comes to gender diversity.
These are great strides in the right direction, but they are the beginning of the journey. Understanding and solving the gender imbalance will take more than just acknowledging it. We need to ask the tough questions, to push for personal reflection by individuals and organizational accountability for firms, including:
Are there policies and protocols that we can begin to implement today, to help recruit, hire, coach, and mentor women for greater inclusion?
Where can we introduce bias interrupters, to tear down real and perceived roadblocks?
Do we have programs to provide opportunities for junior- to mid-career individuals to work directly with firm leadership on strategic projects?
How will senior management improve transparency and communication to foster a gender-balanced culture?
Gender targets alone are one dimension of progress, but they are insufficient on their own. Firms must actively manage the change required to eliminate biases that hinder progress.
A Role Model in Each of Us
Just as firms are responsible for creating a culture of inclusion, it's also a personal responsibility. The talent is there. We all simply need to be bolder and truly fearless in acknowledging our own biases—conscious or otherwise. Fearless in looking beyond the usual pools of candidates to see other individuals with promise. Fearless in creating more gender balance at all levels of the organization. And fearless in our commitment to lift each other up, because we will always be better when we come together than when we stand apart.
If you are not already engaged, the time is now. Mentor, coach, and sponsor high-potential candidates; promote high performers into leadership positions. When it comes to sponsorship in particular, we all can and should be more assertive.
The sense of immediacy is real, but serious effort takes time; the glass ceiling only shatters with continual pressure. Organizations that achieve real progress in gender diversity can benefit from the improved outcomes, while those that fail to commit to gender diversity will ultimately lag behind. Imagine how far the next generation can go if we continue to develop opportunities and encourage more diverse role models along the way.
You can find more information about Fearless Girl and State Street Global Advisors' efforts to promote gender diversity and corporate culture here.
1 Marcus Noland, Tyler Moran, and Barbara Kotschwar, "Is Gender Diversity Profitable? Evidence from a Global Study," Peterson Institute for International Economics, WP-13 (February 2016).
2 State Street Global Advisors Asset Stewardship Team, March 2017.
3 MSCI, Women on Boards: Global Trends in Gender Diversity. November 2015. A company is considered to have strong female leadership if the company's board has three or more women or if its percentage of women on the board is above its country average.
4 McKinsey Global Institute 2017. Figure shown in USD.
5 Russell 3000 Index is a market-capitalization-weighted equity index maintained by the FTSE Russell that tracks performance of the 3,000 largest U.S.-traded stocks, which represent about 98% of all U.S incorporated equity securities.
6 ISS Analytics as of November 2016 and June 2018.
---
ABOUT INTERNATIONAL WOMEN'S DAY: International Women's Day is celebrated annually on March 8, yet the global campaign continues all year long. This year's theme is #BalanceforBetter.
Visit the International Women's Day website for more detailed information, guidance and resources.